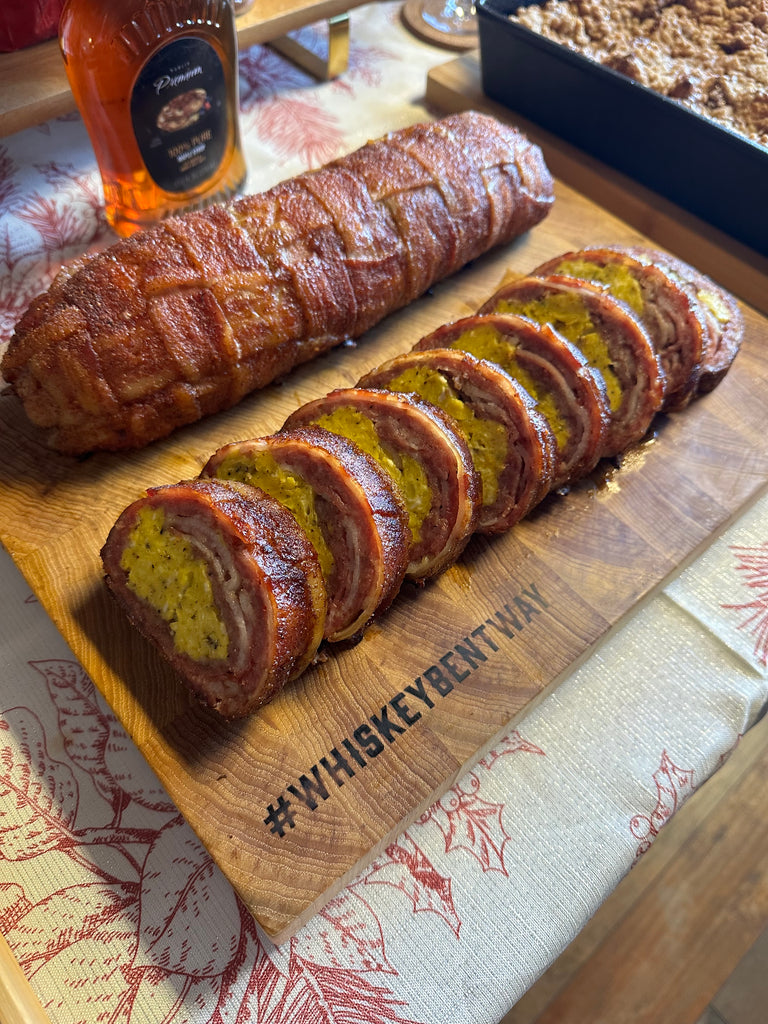 1 lb regular bacon
1 lb ground breakfast sausage
5 large eggs
1 cup shredded sharp cheddar cheese
Whiskey Bent BBQ's The Rocks
Whiskey Bent BBQ x Kendrick BBQ's Pecanerry
Preheat smoker or oven to 275. I recommend cherry or any fruit wood when smoking this breakfast fatty.
Scramble the eggs on your cooktop, lightly seasoning with "The Rocks" and set aside to cool. 
Make a 6x6 bacon weave. Lay 6 pieces of bacon side by side (touching) on parchment paper. Weave the remaining 6 pieces of bacon across those 6. Ensure the bacon weave is tight. On a piece of parchment paper, evenly press out your breakfast sausage to the same dimensions as your bacon weave. Lay the sausage over the weave and slowly pull back the parchment paper. Make sure the sausage extends to the edges of the bacon weave. Add the scrambled egg mixture evenly across the sausage. Spread the shredded cheese evenly across the top of the eggs.

Slowly roll the bacon weave up tightly to form what looks like a burrito. Tuck and toothpick the ends of the bacon into the side of the breakfast fatty to keep everything inside. Season all sides with a good layer of Pecanerry seasoning. Place the breakfast fatty on the grate and cook until the internal temperature reaches at least 160F to ensure the ground sausage is fully cooked (approximately 90 minutes). Remove breakfast fatty from the cooker and let rest for at least 10 minutes. Slice 1" thick and serve with hot sauce or salsa.