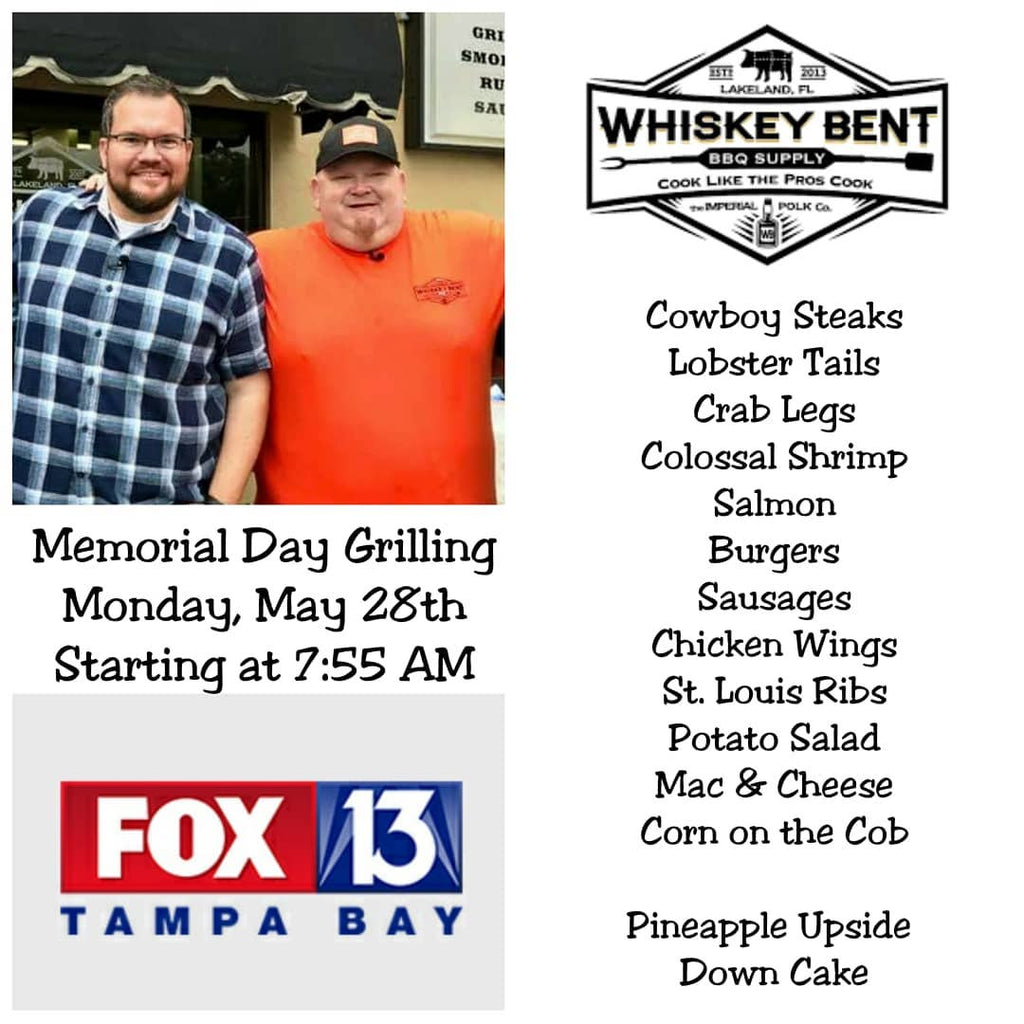 Hope everyone is having an amazing Memorial Day and thanks for watching.  Below are the recipes that Chad and Charley covered.
Cowboy Steaks
2 lb Cowboy Steak                  The General Rub                      3 TBSP Butter
Set your cooker to 225 degrees
Season the Cowboy Steak liberally with The General Rub
Place the Steak on the cooker for one hour or until it reaches 120 degrees F
Move the cooker to 500F and sear the Steak on each side for 2 minutes or until 132F internal temperature
Remove from cooker and place 3 pats of butter on top of the steak while it rests
Let rest for 10 minutes then slice and serve
Lobster Tails
2 - 6 oz. Lobster Tails     Wicked Que Key Lime Jerk Rub      3 TBSP Butter (Melted)
Set your cooker to 275 degrees
Cut the lobster shell down the middle until you get about 2 inches from the end
Gently take your fingers and separate the meat from the shell and pull it up to where it sits up on top of the shell
Season the Lobster Tails with Wicked Que Key Lime Jerk Rub
Place the Lobster on the cooker, basting every 5 minutes with melted butter.
Once the lobster reaches 145, about 25-30 minutes, remove from the cooker and baste one more time with butter
Let rest for 5 minutes then cut tail from the shell, slice and serve.
Crab Legs
Use this amazing recipe from Traeger Grills
https://www.traegergrills.com/recipes/seafood/crab-legs-herb-butter
Colossal Shrimp
2 lb. Peeled & Deveined Colossal Shrimp
Wicked Que Sweet Orange Habanero Rub
Set your cooker to 275 degrees
Season the Shrimp with Wicked Que Sweet Orango Habanero Rub
Place the Shrimp on the cooker
Once the shrimp reaches 145, about 8-10 minutes, remove from the cooker 
Serve immediately
Salmon
1 full side of Salmon
Traeger Big Game Rub
Texas Rib Candy - Pineapple Habanero
Set cooker to 275

Season salmon fillets with Traeger Big Game Rub
Add salmon to cooker for 45 minutes, basting 2-3 times with Texas Rib Candy
Once the fish flakes with a fork, it is done
Remove from cooker and rest for 5 minutes then serve
Burgers
4 - 1/2 lb burger patties (80/20 beef)
Kosmo's Texas Beef Rub
4 pieces of Sliced Cheddar Cheese
4 Brioche Hamburger BunsMelted Butter1 head of Green Leaf Lettuce1 Tomato (Sliced)Ketchup MustardMayo
Set your cooker to 350 degrees
Season the Burgers with Kosmo's Texas Beef Rub
Place the Burgers on the cooker.  Cook for 10 minutes and then flip and cook another 8 minutes.
Once the burger reaches 135, add the cheese and once melted, remove from the cooker
Add melted butter to the inside of each bun and place face down on the cooker for 1 minute or until toasted golden brown.
Once buns are done, place lettuce on the bottom bun then burger and serve sliced tomato and condiments on the side.
Sausages
4 High Quality Sausages
4 Potato Roll Sausage Buns
Melted Butter
Papa Cow's BBQ Sauce
Set your cooker to 350 degrees
Place the Sausages on the cooker. 
Once the sausages reach 160 degrees, remove from the cooker
Add melted butter to the inside of each bun and place face down on the cooker for 1 minute or until toasted golden brown.
Once buns are done, place sausage in the bun and top with Papa Cow's BBQ Sauce
Chicken Wings
24 wings
4 oz. GameChanger Brine
32 oz. Water
Jr. Briner Bucket or Extra Large Ziploc Bag
Butcher's Honey Rub
Blues Hog BBQ Sauce
Breakdown the wings into drums & sections, if needed.
Mix GameChanger and Water well, place in briner bucket and make sure wings are covered
Brine for 2 hours then Remove from brine and rinse well
Season with Butcher's Honey Rub and rest for 10 minutes
Set the cooker to 275 degrees
Smoke wings for 60 minutes or an internal temperature of 165-170 degrees
Move cooker to 500 degrees or higher
Toss with sauce and return to cooker for 2 minutes
Remove from cooker and let rest for 5 minutes then serve
St. Louis Ribs
2 slabs St. Louis style ribs
Cimarron Doc's Rib Rub
Tillman's Apple Chipotle BBQ Sauce
Apple Juice
Set cooker to 275 degrees
Wash ribs and pat dry
Remove membrane from the back of the rib
Apply a thin coat of Cimmaron Doc's Sweet Rib Rib to the back of the rib and let rest 15 minutes
Turn rib over, apply a heavy coat of

Cimmaron Doc's Sweet Rib Rib

to the top and let rest 15 minutes
Put Ribs on cooker
After 2 hours to 2.5 hours, check for bone pull. If enough, remove ribs from cooker
On one piece of foil, pour a half cup of apple juice.
Place rib face down in apple juice and repeat the process on the back of the rib.
Wrap the foil around the rib in a dome type fashion
Put ribs back on the cooker face down.
Cook for another 45-60 minutes or until tender (Not fall off the bone tender!)
Remove from cooker and take out of foil
Lay ribs out on a food grate and brush front and back with Tillman's Apple Chipotle BBQ Sauce
Return to cooker for 10-15 minutes or until sauce is cooked into the product
Remove from cooker 
Let rest 15 minutes, slice and serve
Potato Salad 
Use this amazing recipe from Traeger Grills
https://www.traegergrills.com/recipes/vegetables/smoked-potato-salad
Mac & Cheese
8 oz . Velveeta cheese sliced into 1/2" thickness
4 cups whole milk
2 cups macaroni uncooked
4 tbsp . salted butter sliced 
4 cups shredded cheddar cheese 
Historic BBQ Red Rub
Set cooker to 350F degrees
Butter a 9 x 13 piece of cookware so the mac & cheese doesn't stick
In the bottom of the cookware, mix together milk with Historic

BBQ

Red Rub
Pour in and evenly spread uncooked macaroni 
Add slices of Velveeta & 2 cups shredded cheddar cheese into baking dish evenly
Top with slices of butter under the milk
Place in the cooker, covered with aluminum foil for about 50-60 minutes until macaroni is cooked and liquid is setting up
Take it out of the cooker, remove foil, and top with 2 cups of shredded cheddar cheese
Put it back in the cooker for another until cheese is melted
Corn on the Cob
Use this amazing recipe from Traeger Grills
https://www.traegergrills.com/recipes/vegetables/smoked-potato-salad
Pineapple Upside Down Cake
1/2 C Butter
1 C Brown Sugar
20 oz. can Pineapple Rings (save the juice)
Maraschino Cherries
1 pkg Duncan Hines Pineapple Supreme Cake Mix
Reserved Pineapple Juice plus enough water to equal 1 1/3 C liquid
1/3 C Vegetable Oil
3 Eggs
Set cooker to 350 degrees over an indirect fire
Melt butter in bottom of 12" cast iron skillet
Sprinkle brown sugar evenly across the bottom of the skillet
Arrange pineapple rings in bottom of skillet
Place a cherry in the center of each ring
Prepare cake mix with remaining ingredients and mix well
Pour cake batter gently over pineapple rings
Bake for approximately 50 minutes.  Test with a toothpick
Cool at least 5 minutes then invert and serve