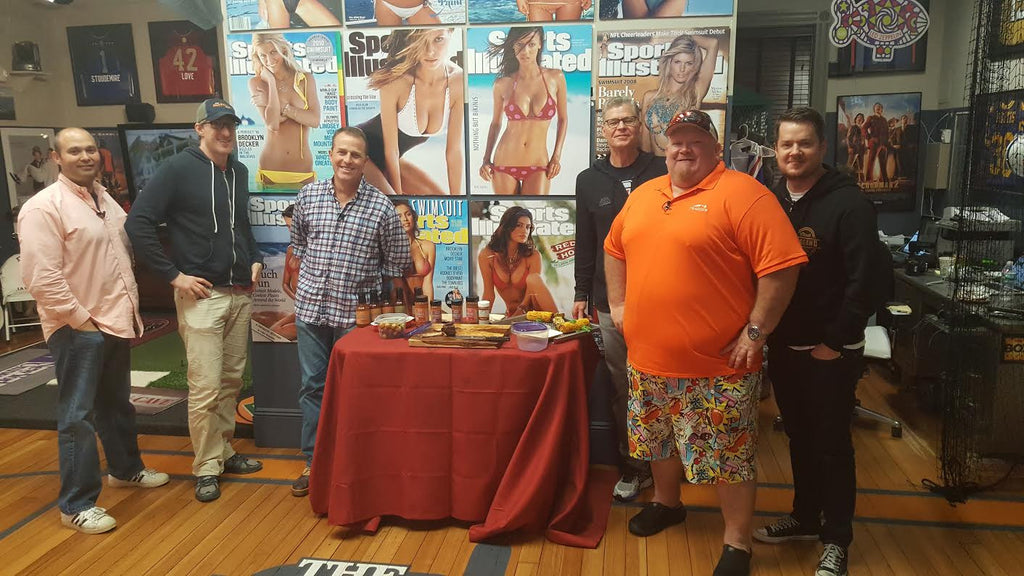 Chad traveled to Milford, CT for the Dan Patrick Show to talk all things BBQ & Traeger Grills.  The trip started with a cook-off at Dan's house on Wednesday and an interview and appearance on the show Thursday.  If you missed the segment, you can see it here.
I've also included it below... 
Here are photos and the Chimichurri recipe from the trip:
Seen above are some of the items Chad cooked up including Grilled Potato Salad, Waygu Tri Tip, Kurobuta Pork Short Ribs, Chile Lime Grilled Corn & Chimichurri.
For this spread, Chad cooked up Bacon Chili Cheese Waygu Hot Dogs, Smoked Chicken Wings, Creamy Coleslaw, Jalepeno Popper Stuffed Waygu Burger, Waygu Flat Iron Steak & Apple Pie Baked Beans
If you want to give the Chimichurri sauce used above, here's the recipe...
Chimichurri - Recipe credit to Jason Stucki from Team America
Ingredients:
3-4 cloves garlic
Diced 1/4 large white onion
Rough chop 1 medium bundle flat leaf Italian parsley, washed & majority of stems cut
1/4 cup red wine vinegar
1/4 cup extra virgin olive oil
1 teaspoon salt
1/2 teaspoon black pepper
Instructions:  
Combine all of the ingredients in a food processor or blender
Puree until smooth or leave slightly chunky if you prefer.
Add additional olive oil to taste if you don't like it quite so strong.