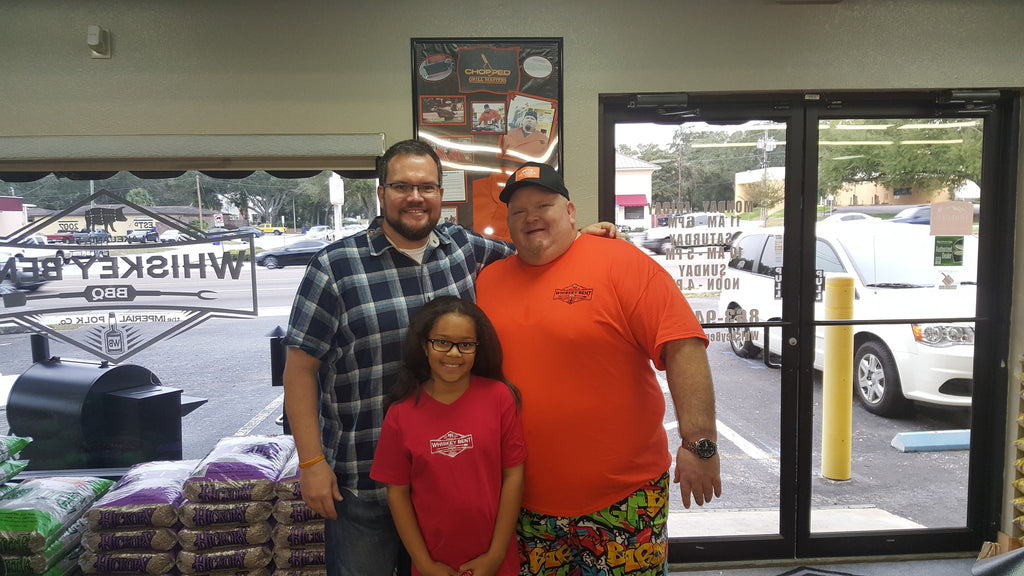 We were fortunate enough to have our good friend, Charley Belcher, join us this morning to cook an entire Christmas dinner on the Traeger Grill.  As we discussed, you can use these same recipes on a gas grill, charcoal grill or even your oven!  It is all about the time and temperature!
We started off the show talking about Prime Rib & Glazed Holiday Ham!  We used a 35 day wet aged prime rib from Master Purveyors!  It was delicious and if you are in the read for a prime rib for the big day on Sunday, send Shawn McCranie at Master Purveyors The prime rib recipe is below:
Smoked Prime Rib – Serves 10-12
6-8 lb. Prime Rib
4 oz. Victory Lane Beef Rub
Remove the prime rib from the refrigerator 1 hour before cooking and let sit at room temperature
Liberally rub the prime rib with Victory Lane Beef Rub
Prepare your grill to a temperature of 275 degrees
Place the prime rib on the grill with the fat side down
Cook until an instant-read thermometer inserted in the center reads 130 degrees F, between 3 1/2 to 4 hours.
Remove the prime rib from the grill
Let rest, loosely covered with foil, for 20 minutes before slicing
After being rubbed and before going on the smoker:
After rest and sliced:
Glazed Holiday Ham
Smoke Glazed Holiday Ham - Serves 15-20
 1 half semi-boneless cooked ham
1 bottle Texas Rib Candy (Flavor of Your Choice)
2 Cups Turbinado Sugar
Unwrap the ham and place in a disposable half pan
Move smoker to 275 degrees and place half pan with ham on it
Glaze the top of the ham with Texas Rib Candy and sprinkle with Turbo Sugar
Repeat process every 15 minutes for a total of 120 minutes
Remove from smoker, rest for 10 minutes, slice and serve
Before:
After:
In the 2nd segment we went over sides on the grill.  Today's choice was Sweet Potato Casserole & Green Bean Casserole.  The recipes are below:
Sweet Potato Casserole - Serves:  12-15
5 large sweet potatoes
1 1/2 sticks of butter
1/2 cup brown sugar
1 tsp vanilla
2 tsp Voodoo Chef Dirt Seasoning
1 bag mini marshmallows
Preheat Traeger to 375
Pierce skin of sweet potatoes with fork, few times each
Place on the Traeger and roast for 1 hour or extremely softened
When soft, remove from grill, peel skin off by hand & cut into cubes & place sweet potatoes in cast iron skillet
Whisk together 1 stick of butter, brown sugar, vanilla & Dirt Seasoning
Pour over potatoes & sprinkle with marshmallows
Dot the remining half stick of butter over the top of the casserole
Bake in the Traeger for 25 minutes or until warm & marshmallows are golden
Mid Cook (10 minutes in):
After:
Green Bean Casserole (Serves 12-15)
1/2 stick of butter
1 small onion, small dice
2 bags frozen French Style green beans
2 cans of cream of chicken soup
2 tsp Voodoo Dirt Seasoning
1 can of French fried onion rings
1 cup of grated cheddar cheese
Preheat Traeger for 375 degrees
Melt butter in cast iron skillet & add onions, stirring occassionally until softened
Add green beans, soup, seasoning & stir to combine 
Sprinkle the top with cheese & crumbled onion rings
Bake for 25 minutes
Before:
After:
Apple Crisp - Serves 12-15
6 cups sliced apples
1/2 cup brown sugar
1/4 cup white sugar
2 tbsp corn starch
1 tsp cinnamon
1/4 tsp nutmeg
2 tbsp butter
1/3 cup flour
1 cup oatmeal
1/2 cup brown sugar
1/2 tsp salt
1/3 cup butter, melted
Preheat Traeger to 375 degrees
Place apples in cast iron skillet. 
Mix all non-topping ingredients in a small bowl
Sprinkle over apples and toss lightly 
Dot the apples with butter
Combine topping ingredients and mix until crumbly, sprinkle over the top of the apples
Bake for 35 minutes until apples are softened & topping in browned
Before:
After:
All in all, it was a great day!  Huge thanks to Charley, Jason, Lucas and the entire Fox 13 Tampa Bay team for allowing us to share our passion with their great audience!  If you have any questions, stop by or give us a call at either location!
Whiskey Bent BBQ Supply - Lakeland
3230 South Florida Ave
Lakeland, FL 33803
(863) 940-2077
Whiskey Bent BBQ Supply - Odessa